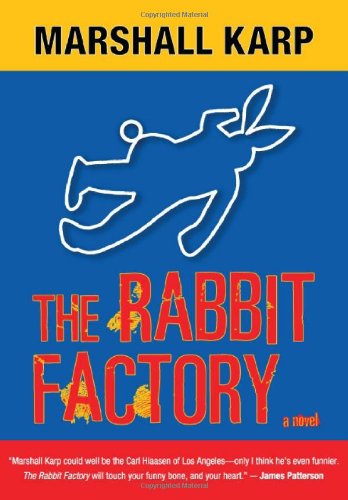 The Rabbit Factory by Marshall Karp is the first in the Lomax and Biggs series of novels.
Rambunctious Rabbit is the Bugs Bunny of Familyland, a Walt Disney World like theme park created by Lamaar Studios.
When the rabbit, or rather the actor inside the oversized bunny suite, is found strangled in the theme park grounds, the delicate investigation into the killing begins.
Lomax and Biggs must tread carefully as they are asked to keep the investigation quiet, so as not to destroy the family friendly reputation of the Lamaar Studio empire.
Unfortunately, keeping the investigation confidential becomes difficult when they discover that Eddie Elkins, the actor portraying Familyland's famous mascot, is actually a convicted paedophile.
The reason seems obvious to why Elkins was killed.
However, when a second brutally murdered victim turns up who's also linked to Lamaar Studios, it becomes less obvious, and even more difficult to protect the reputation of the Studio.
I first encountered Marshall Karp's work a few weeks ago, when I read NYPD Red (see my review), which he co-authored with James Patterson. I thoroughly enjoyed that novel, and was eager to see if his own books were as good.
Considering this is Karp's first novel, I'd have to say yes, they are very good!
Here's why...
Firstly, there are some great main characters, each accompanied with plenty of background information to make them feel more real.
There's a great plot, and some very clever sub-plots, that keep your attention, from the very first page until the very last.
The book is packed full of humour, and raises at least one smile in nearly every chapter, of which there are many.
The chapters are short, giving the impression that something is happening all of the time, which is something I liked. The short chapters also encourage you to keep reading - just one more chapter before bedtime syndrome is definitely in evidence here!
The lead investigators are both likeable characters, which may not be important for some, but it definitely makes me want to keep reading about them.
Finally, and probably most importantly, it's a very entertaining crime novel, that has a clever twist in the tail. I can't recommend it highly enough.