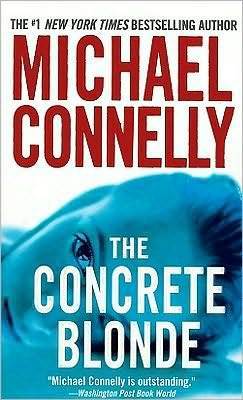 The Concrete Blonde by Michael Connelly is the third in the series of Detective Harry Bosch novels.
I have to admit, that while I ultimately enjoyed both of the previous Harry Bosch novels, I also found them a bit hard going. I was determined to persevere though as the stories were interesting and well constructed, and I found myself liking Bosch as a character.
After reacting to a tip off from a hooker, Bosch finds himself in a standoff with the Dollmaker, a serial killer who has plagued Los Angeles. Bosch has the Dollmaker in his sights, and is making an arrest when the Dollmaker makes a move for what can only be a weapon. Bosch has no qualms about firing, and the Dollmaker is no more. Only, when Bosch moves to make the perpetrators weapon safe, he cannot find one!
Four years on, and Bosch has a problem as the dead man's widow is suing both Harry, and the LAPD, for the wrongful death of her husband. To make matters worse, a body has shown up that shows all of the hallmarks of a Dollmaker killing. Bosch has to confront the fact that he may have killed the wrong man.
I really liked how this story was put together. Connelly cleverly interweaves the story between the intricacies of the court case, and the investigation into the death of the new Dollmaker victim. The courtroom scenes and police investigation scenes, while being completely different, come across as very well researched, and well written, and both complement each other to help move the story forward.
After struggling with the previous two novels in the series, I'd been worried that I would once again lose interest in the story, however, my worries were completely unfounded, and I enjoyed pretty much everything about this book.
I particularly enjoyed that the story took place (and was written I guess) in a time before computers had completely taken over the job of information management. The police work had to be done the old fashioned way! Paper files were searched manually, fingerprints were checked using loupes, and officers communicated using pagers and public telephones instead of using cellphones, text messages and e-mail.
To sum up then, I very much enjoyed The Concrete Blonde, and I've been persuaded to stick with Connelly! I will definitely be reading number four in the series. I actually liked the courtroom scenes so much that I'm very tempted to try out his Mickey Haller series of books, starting with The Lincoln Lawyer...